Here, we curate and present a stream of timely updates, announcements, and highlights that encapsulate the ongoing journey and accomplishments of the CODECO project.
---
CODECO: Supporting the Edge-Cloud Continuum Via an Open, Cognitive, Decentralized Framework
Through the Eclipse Foundation newsletter (check here), we're excited to showcase how CODECO is driving innovation in the Edge-Cloud continuum, bringing you a closer look at our project's dynamic role. Our open cognitive decentralized framework is designed to revolutionize data processing, offering new opportunities and pathways for the digital landscape.
CODECO is pushing the boundaries of technology, leveraging AI, IoT, and Cloud resources to create a seamless data processing environment that addresses the existing infrastructure by considering data, compute, and network resources.
CODECO develops an ecosystem consisting of open-source toolkits, large-scale experimentation, training tools and events, use-cases across four vertical domains (Smart Cities, Energy, Manufacturing, Smart Buildings) and multiple events integrated into a unique Innovation and Research Community Engagement Programme. The open-source software, which is pluggable and interoperable with Kubernetes (K8s) will be made available to the community through the Eclipse Foundation.
CODECO will implement software toolkits suitable for smarter management of highly-distributed environments based on heterogeneous networks and by integrating mobile, resource-constrained devices. The CODECO components will extend the management and orchestration of edge-cloud services with cognitive cross-layer adaptability, intelligent offloading, and networking decisions, prioritizing data security, application needs, and context-specific factors.
The CODECO key technological blocks shall be explored via the use of multiple use-cases which will serve as a basis for experimentation and demonstrations. CODECO will support the development of six use-cases across four different European competitiveness markets: smart cities, energy, manufacturing and smart buildings.
Are you ready to be part of the transformation in Edge-Cloud convergence? Join us on our exciting journey by getting involved in the CODECO project.
To keep up with our latest endeavors, insights, and upcoming events, be sure to follow us on social media Linkedin and Twitter.
Together, we're creating a more connected and intelligent future!
3rd Plenary Meeting – July 2023, Greece
We are excited to share that the 3rd plenary meeting of CODECO was a resounding success!
During this two-day event, held in the beautiful city of Athens, our esteem consortium shared their plans and objectives for the following months as well as the current challenges in our project and how to overcome those.
This plenary meeting served as a platform for a fruitful discussion on CODECO progression, where ideas were exchanged, strategies were formulated, and plans to put into action were considered. It was an opportunity to strengthen partnerships, align our vision, and drive the project forward.
We extend our gratitude to all the participants (remotely and f2f) for their valuable contributions, engagement, and commitment to the project. The energy and enthusiasm displayed during the meeting further reinforced our collective dedication to shape the future of the Edge-Cloud ecosystem.
Together, we are shaping the future of the Edge-Cloud continuum!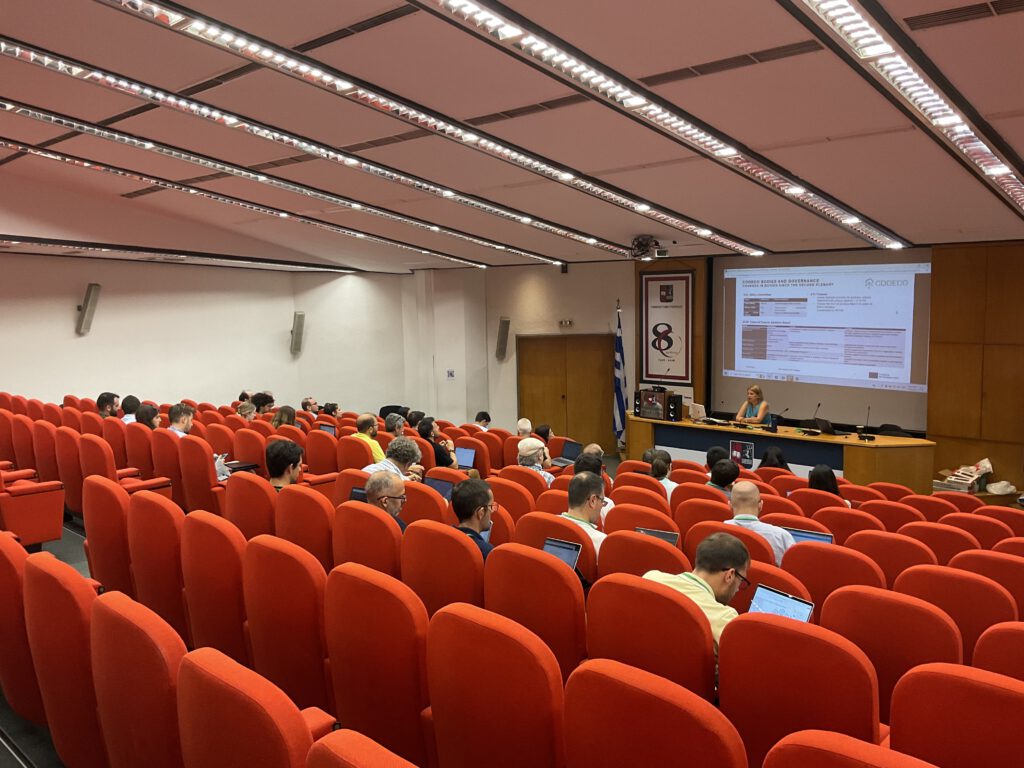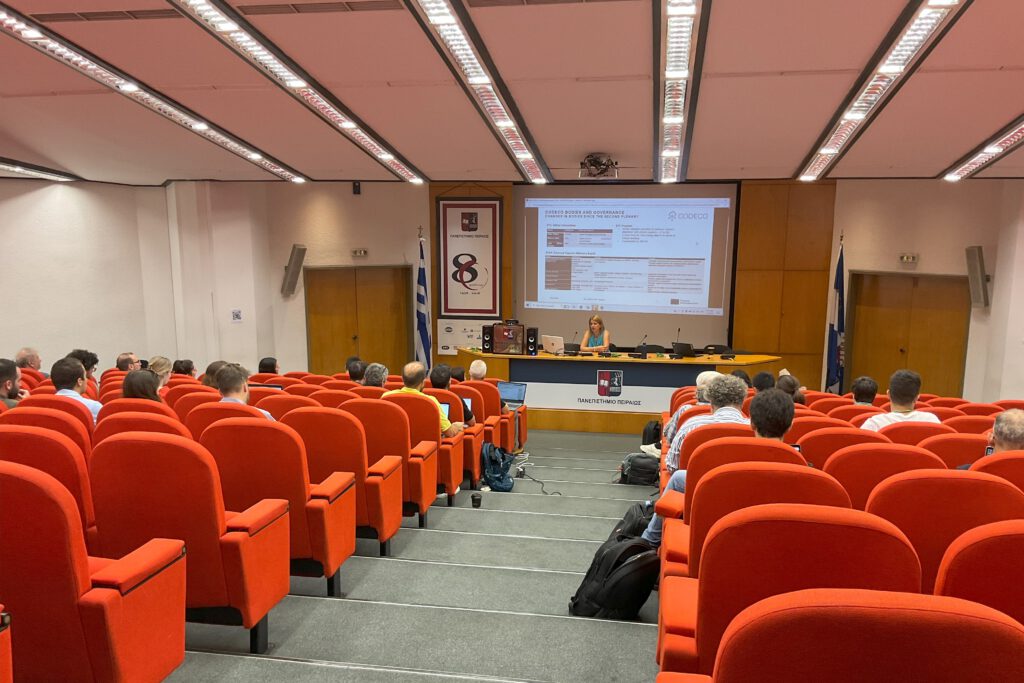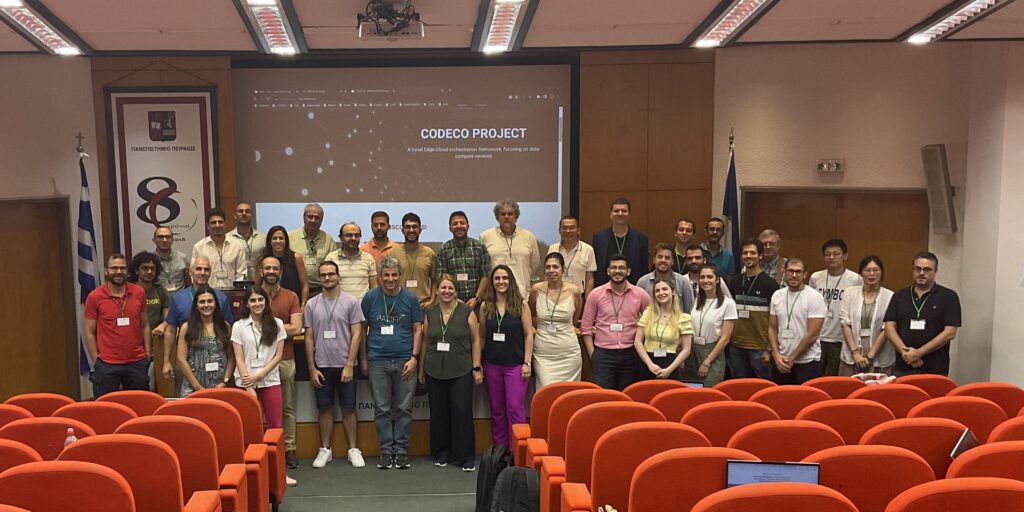 Data Week 2023, Sweden
CODECO leaves its mark on DataWeek 2023!
During this prestigious gathering, held as part of the Data Week series, Rizkallah Touma, Research Lead at I2CAT Foundation, presented CODECO on June 14th, during the session on "Building a Cognitive Cloud-Edge Continuum for Next-Generation Data Processing Applications".
The event provided an exceptional platform for knowledge sharing, networking, and collaboration within projects of the Cloud-Edge-IoT community
We thank Rizkallah for his valuable contribution and presentation, which showcased CODECO's commitment to driving innovation in the data processing landscape!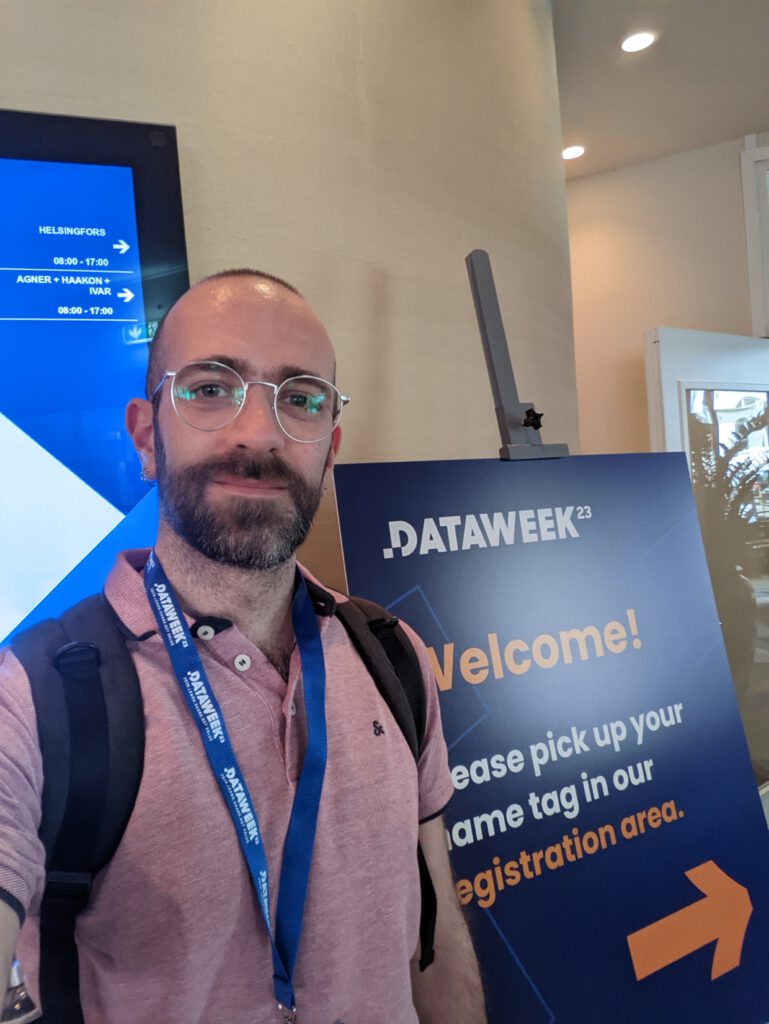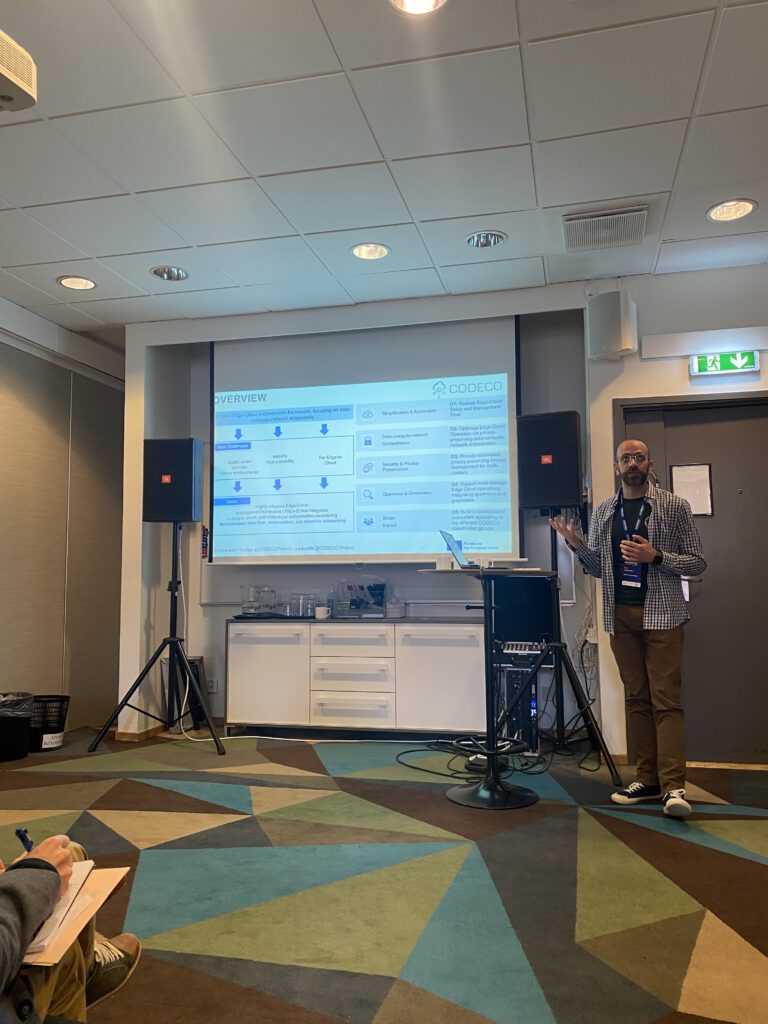 EUCEI Event – May 2023
The CODECO Project participated on the EUCEI event Concertation and Consultation as one of the flagship projects on "Cognitive Cloud".
Our Coordinator, Rute Sofia from fortiss, provided a pitch of CODECO and has participated on the Hub4Cloud panel "Resource orchestration and adaptation in the continuum", moderated by Giovanni Rimassa (Hub4Cloud Coordinator – CIO Martel Innovate) and having as speakers:
Manos Varvarigos – Project Coordinator – SERRANO
Fulvio Risso – Technical Coordinator – FluiDOS
Rute C. Sofia – Project Coordinator – CODECO.
The panel focused on the main challenges concerning an adaptive and cognitive continuum, envisioning next-generation IoT applications.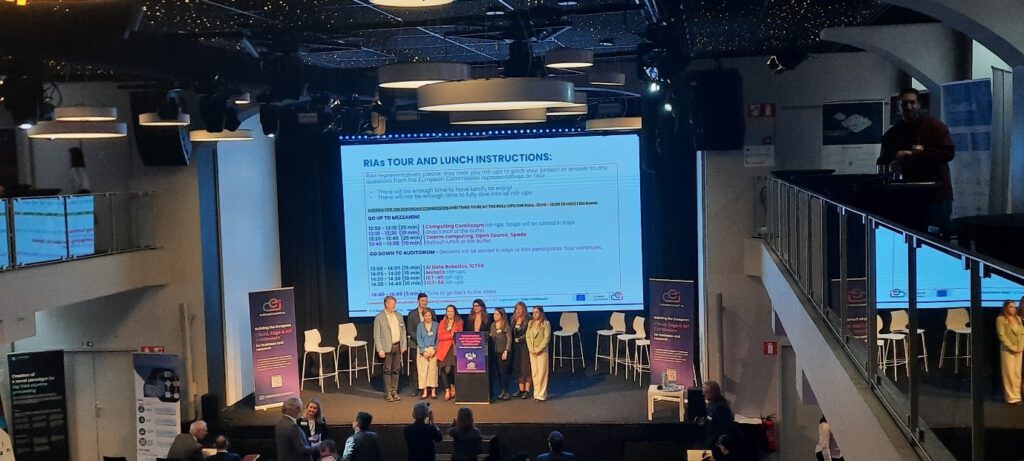 CODECO Advisory Board
We thank the CODECO Project international Advisory Board, for their support over the next years in driving a new vision in the context of the cognitive Edge-Cloud continuum!
The CODECO Advisory Board counts with the following international experts: Maria Joao Barros-Weiss, IONOS SE, Germany, providing support towards standardization and business models; Richard Yang, Yale University, USA, providing support towards the compute-network and network-application integration aspects in CODECO; Roch Guerin, Washington University at St Louis, supporting the advanced orchestration across far Edge-Cloud; Charles Sheridan, Google, Ireland, supporting the business impact for federated clusters towards industrial environments; Paulo mendes, Airbus, Germany, supporting and advising the development of CODECO applications towards new frontiers in aeronautics and Space; Yuanyuan Yang, Stonebrook University, USA, providing support towards Edge computing and decentralized systems; Timur Friedman, LIP6, France, supporting and advising the experimentation and integration of CODECO in the worldwide experimental testbed EdgeNet.
More to come about this!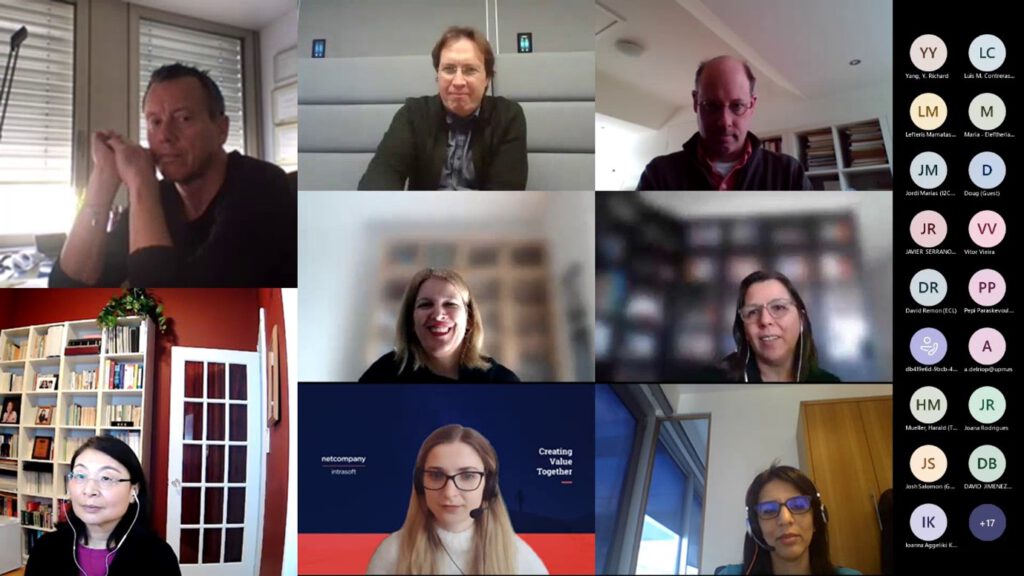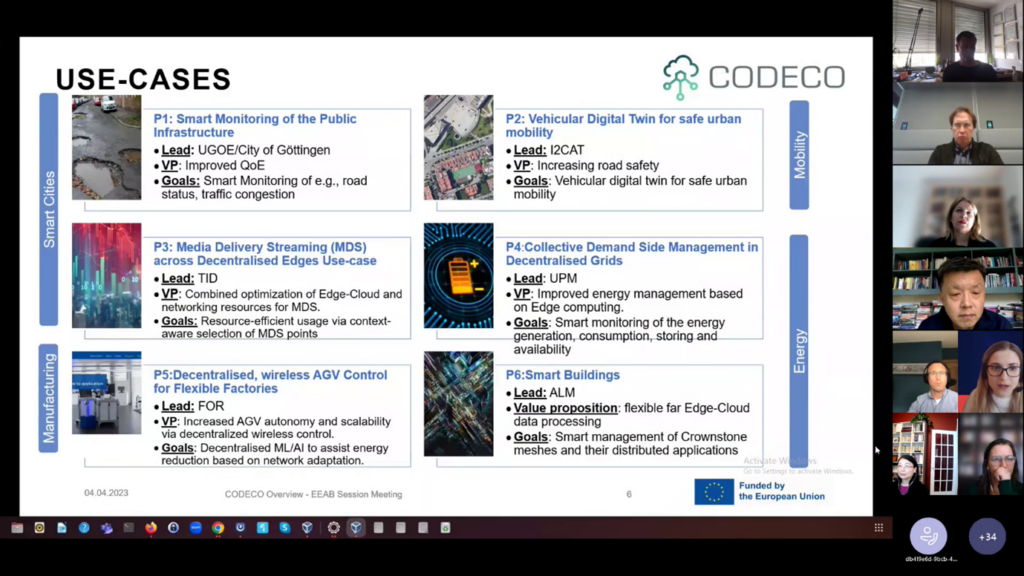 CODECO second plenary meeting April 4th and 5th 2023
The second plenary of the CODECO project took place via Webconferencing on April 4th and 5th 2023. During the second plenary meeting, the partners focused on the design and development of the CODECO innovative use-cases, debating user-journeys and CODECO applications.
On the second day of the plenary, the CODECO consortium has briefly interacted with its Advisory Board, to establish the initial cooperation measures and support to achieve the proposed vision.