Supporting the Edge-Cloud continuum via a cognitive, decentralised Edge-Cloud framework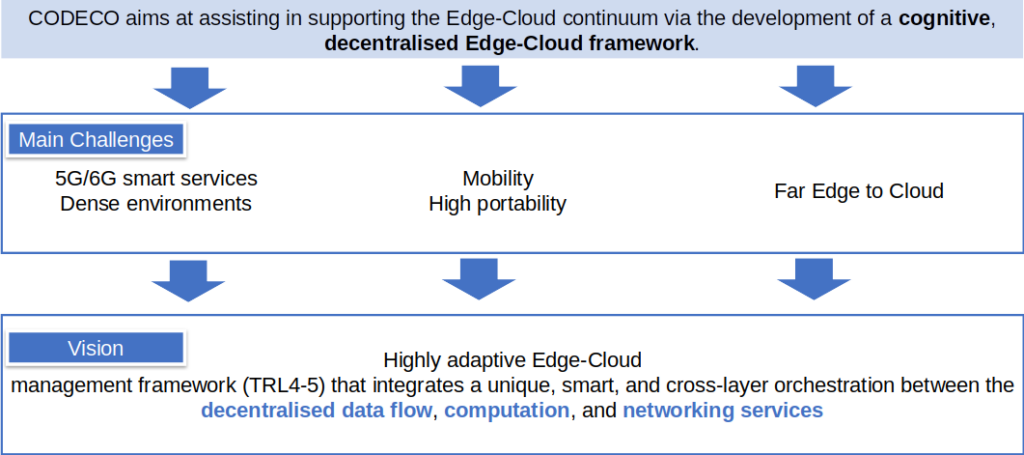 The overall aim of CODECO is to contribute to a smoother and more flexible support of services across the Edge-Cloud continuum via the creation of a novel, cognitive Edge-Cloud management framework. To achieve this aim, CODECO proposes a unique, smart, and cross-layer orchestration between the decentralised data flow, computation, and networking services, to address Edge-Cloud challenges derived from the rising Internet and IoT service decentralisation.
CODECO shall develop an ecosystem consisting of open-source toolkits, large-scale experimentation, training tools and events, use-cases across 4 vertical domains (Smart Cities, Energy, Manufacturing, Smart Buildings), multiple events integrated into a unique Innovation and Research Community Engagement Programme.
The CODECO consortium comprises a total of 16 partners across Europe and its associated states Israel and Switzerland. The consortium partners represent several types of organizations, ranging from SMEs with a focus on open-source software and innovation management (Inova Mais, Eclipse Foundation, Almende); renowned universities (University of Göttingen, Universidad Politecnica de Madrid, University of Pireus research Center) and research institutes (fortiss, I2CAT, ATHENA); large companies (ATOS, Telefonica, Siemens, Intracom-Telecom, RedHat, Netsoft-Intrasoft, IBM).
Assets